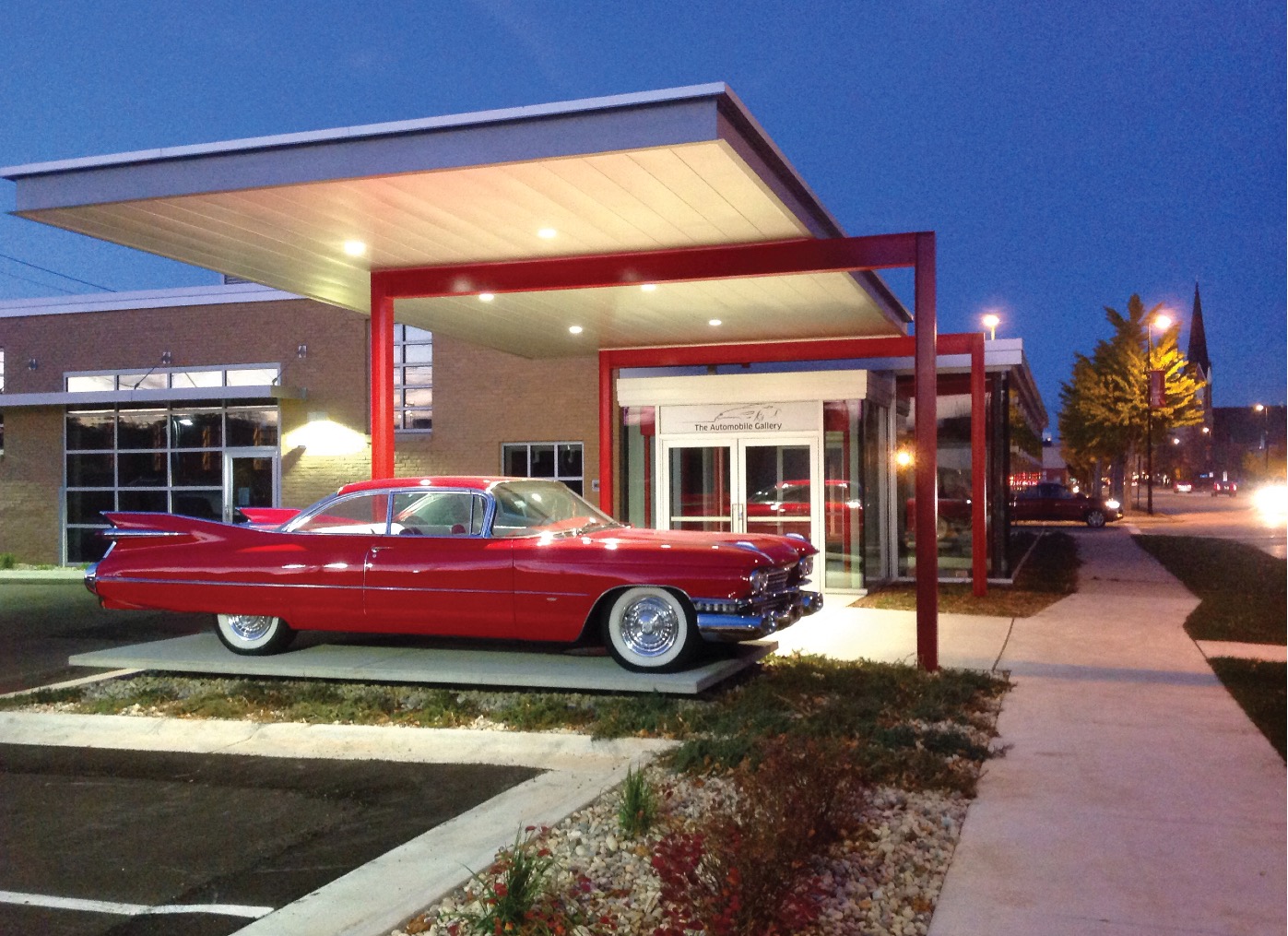 AN EVENING STREET VIEW OF THE AUTOMOBILE GALLERY
1917 MILBURN ELECTRIC
The first "Green" automobile
1932 CADILLAC MODEL 355 COUPE
1 of only 2,693 Cadillac cars produced in 1932
1959 BUICK ELECTRA 225
Also named "Deuce and a Quarter" because of the car's 225 inch length
1978 PONTIAC FIREBIRD TRANS AM
Remembered for its horsepower and handling
Corporate Events & Group Tours
Available 7 Days a Week!
Regular Gallery Hours
Saturday & Sunday 9:00 am - 3:00 pm
Open Weekdays – Call for Daily Hours
(Ticket sales end one hour prior to closing)
Ticket prices:

One Day Family Pass | $32
Seniors (62+) - $8 | Adults (18+) - $10
Children (7-17) - $8 | Children (under 6) - FREE
Students with ID, Veterans - $8
Active Military or Reserve - FREE
AN EXCITING NEW CONCEPT:
THE AUTOMOBILE GALLERY & EVENT CENTER
History and automobile culture come to life in a spectacular new gallery and meeting venue.  The Automobile Gallery is a 501(c)3 non-profit organization dedicated to educate, inspire and share the passion of the automobile with the community and car enthusiasts throughout the United States.   The gallery and non-profit organization was the vision of entrepreneur and automobile collector William "Red" Lewis, who wanted to give back to the community of Green Bay.  This extraordinary property was completely updated and renovated by local craftsmen and now boasts over 18,000 square feet of event and gallery space in the heart of downtown Green Bay.  In addition to the versatile event space the gallery displays almost 50 vehicles of distinction, each with a story to help you understand and appreciate the impact of the automobile in our everyday lives.
The preserved facade of the former Denil Cadillac dealership combined with contemporary architectural elements, interiors, meeting spaces, social gathering areas and the spectacular expansive showroom gallery make The Automobile Gallery one of the most versatile and desirable venues in the area.  The event space is designed for a variety of events and meetings from small intimate affairs to large corporate meetings and gatherings.  The Automobile Gallery is also open to the general public on weekends and varied weekdays.  It is ideally located near hotels, restaurants and entertainment.
AN EXCLUSIVE AUTOMOBILE GALLERY PREVIEW
A Sample of Automobiles Spanning Each Decade Of The Last 100 Years
Swipe or scroll below for a closer view of a few of the automobiles scheduled for display.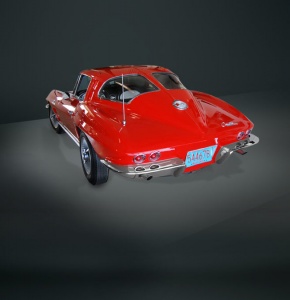 1963 Chevrolet Corvette
Widely recognized as one of the most iconic designs to ever have been produced.
2015 Cadillac CTS-V
1 of 500 special edition coupes with 556 hp, Recaro seats, and unique ebony trim.
AN ENVIRONMENT AS IMPRESSIVE AS THE AUTOMOBILES IT SURROUNDS
Sleek. Contemporary. Timeless.
SEE WHAT OUR VISITORS HAVE BEEN SAYING
"It was so interesting to read about the history of the vehicles and how each one came to be a part of the gallery.  We really loved talking to Red about his collection and hearing his stories about the vehicles.  We will definitely be back!"   

Kathryn Kroll (Pahl)

"I have probably been to about 50 different automobile museums and displays in my life, and I can tell you that yours is the cleanest and best executed of the lot."  

John Bergstrom

"The Automobile Gallery is not only a state-of-the-art event space, it feels cozy, which is not anything that I expected, it just has a really nice feel.  It is such a unique place to host an event and our guests truly enjoyed the entire experience!"

Kim LaViolette

"This place ROCKS!  I planned a big event here and the staff at the gallery went above and beyond our expectations.  They made my life easier and took the stress out of planning.  We can't wait to hold our next meeting here!" 

Kathy Kluck

"The Automobile Gallery has put Green Bay, WI on the map for car enthusiasts and collectors around the world.  This is one gallery you won't want to miss!"

John "Gunner" Gunnell
ENGAGING MEETING, EVENT SPACES & TECHNOLOGY
Corporate Conference Space
//  Executive seating up to 20
//  Lounge area including wet bar
Event Space
//  Banquet seating up to 128 with expansion for larger groups
//  Flexible space for meetings & conferences
Corporate Conference Space
Integrated multimedia capabilities including
//  Fully functional conference room with ability to video conference, audio conference, room presentations, and much more
//  80" LED HD Display
//  Web Conferencing – Full HD camera to work with most owner furnished software
//  Full digital audio conferencing for participants to call from outside of the meeting; speakers and microphones are installed throughout the room for clarity of incoming calls and outgoing audio
//  Easy to use touch panel control system
Event Space
Fully functional Reception Hall Area with the following features
//  Full HD 8500 lumen projector for brighter image and clarity of content on the 87" x 139" projection screen
//  Plug in your own laptop or smart device with HDMI and VGA/Audio connections for presentations
//  Wireless handheld and clip on microphone for the presenter along with speakers throughout the room and into the Gallery area when needed
//  Touch panel control system for easy control of video or music for the room along with volume control
THE AUTOMOBILE GALLERY'S MISSION
The Automobile Gallery mission is to appreciate the automobile as art... and to educate, inspire and share that passion with others so they too can truly appreciate the form and function of the automobile-past, present and into the future.
The Automobile Gallery is driven...
//  To provide a cutting edge facility where the "automobile is the art", allowing the opportunity to view a wide variety of automotive excellence.
//  To enhance the knowledge of the general public regarding the engineering, design, development, construction and history of the automobiles on display.
//  To promote the restoration, preservation and appreciation of the automobile's contribution to society.
//  To share our passion for automobiles with others by opening our doors to the community.
//  To offer a very unique atmosphere for private & public events where the art of the automobiles will create memories that will last a lifetime.
GET IN TOUCH WITH US!
Phone: 920.437.9024
400 S Adams St, Green Bay, WI 54301