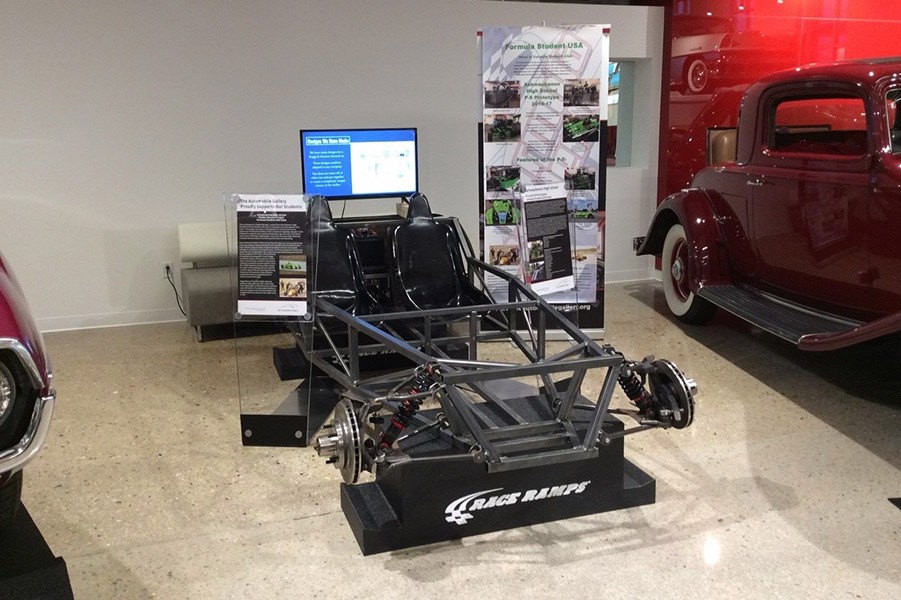 25 Apr
Ashwaubenon High School Stalker Bantam Project
This prototype of a Stalker Bantam is proof that Ashwaubenon High School's Formula Student USA Team is literally on the educational "fast track". The project was years in development as the team set out to improve on the Brunton Stalker which is based on legendary designer Colin Chapman's original Lotus 7 produced between 1957 and 1972. The team's vision was to develop a lightweight, track-only training model featuring multiple advancements to enhance performance and handling.
As a freshman Project Leader Marisa Marohl began by reverse engineering a Brunton Stalker chassis donated by Jim Woodsmall from Dallas Center, Iowa. Marisa used computer program Autodesk Inventor to engineer changes in 3-D before creating the parts. The front suspension remains the same, but the independent rear suspension was totally designed and built by the students with major enhancements. A modified 35 Horsepower V-twin Briggs & Stratton engine will provide the muscle with a continuously variable transmission utilizing a planetary reverse system. Since the Stalker Bantam will be a track trainer, the team will be adding full dual controls on both sides of the car allowing a driving instructor full control to help students understand how to properly pilot the vehicle around the track.
Regardless of how the Stalker Bantam performs May 14th and 15th, 2018 at the CTech Motorplex at Road America in Elkhart Lake, Wisconsin, The Automobile Gallery is proud to support the Formula Student USA students who are clearly on the right track in life!
In addition to the Stalker Bantam on display, Ashwaubenon High School's Formula Student USA Team is building two new Formula Student USA vehicles. Typically, the Formula Stock Class chassis is designed with a rigid suspension with no adjustment. The team has designed an adjustable, rigid suspension system allowing the team to adjust how the chassis distributes the weight on all four tires. The new design also allows the driver more room for the pedals in the cockpit. The second vehicle in production is the sixth-generation Formula Prototype. The team designed and manufactured a replica of Dennis Palatov's DP-1 prototype track car built in 2011 which is currently on display at The Automobile Gallery. Our thanks to Red Lewis for his support and sponsorship of this great project.
The sixth-generation chassis, called the P-6, is engineered to be lighter, faster and better balanced than its predecessors. A fully adjustable pedal system designed by the students developed for last year's P-5 chassis will carry over to the P-6. The P-5 was a lighter, faster and more maneuverable vehicle than the original prototype manufactured by students in 2001. Sixteen years removed from the original, the P-6 prototype is the culmination of seven years of design changes and hundreds of hours working during lunch hours, after school and at Northeast Wisconsin Technical College using NWTC's water jet to create parts. The team hopes to eclipse previous performance levels by engineering an electric "push to pass" system that utilizes a permanent magnet motor to provide short bursts of power on straightaways. All vehicles will be making their track debut May 14-15, 2018 at the CTech Motorplex at Road America in Elkhart Lake, Wisconsin. Jeremie Meyer, Coordinator for Formula Student USA and instructor
[post_gallery]
Ashwaubenon High School's Stalker Bantam Team
Marisa Marohl – Project Lead
Payton Voss
Nathan Lemere
Russle Coble
Alex Luekens
Tyler Rynish
Ashwaubenon Formula Student USA Team
Baeten, William
Coble, Russell – Formula Stock – Project Lead
Cochrane, Noah
Goedken, Connor
Grimaldo, Michael
Kostreva, Donovan
Kratochvill, Henry
Lisse, Theodore
McVane, Benjamin
Metz, Gabriel
Olbrantz, Collin
Petty, Lyle
Pollock, Stefen
Price, Elise
Rynish, Tyler – Formula Prototype – Project Lead
Schmieder, Ean
Schmit, Bryan
Wood, Evan