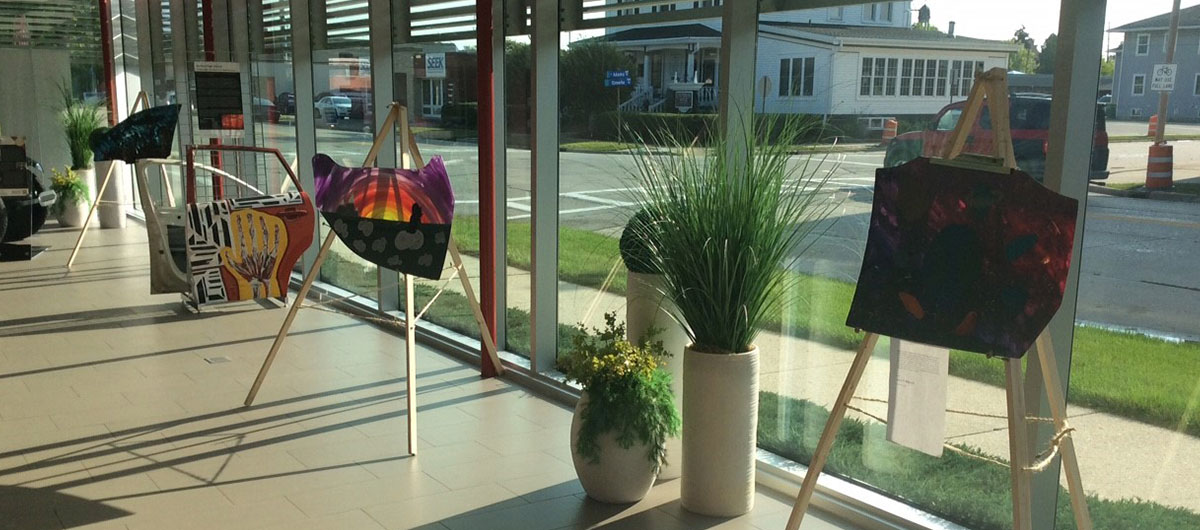 08 Nov
Throws Open the Doors to a New Art Form
De Pere High School
"Windows open out onto the universe around you, but doors will take you to where your imagination lies."  – Anthony T. Hincks | Author
From the beginning, The Automobile Gallery has been dedicated to promoting The Automobile as Art and sometimes we find that art in the strangest places. In the case of Executive Vice President Mike Borlee, it was a local junkyard. Seeing jewels in the junk Mike had a unique idea, "The automobile is art and we wanted to engage art students." He was soon back with car doors and windows from the local scrapyard. Finding the art students proved more elusive. It took a full year and countless conversations but Jennifer Beyers, head of the Art Department at De Pere High School and her fellow art teacher Ashley Koehler were up to the challenge and, dare we say, the doors were soon open to new possibilities.
Without precedent, the students were shocked at first according to Ms. Koehler but then, "We let the students have a discussion about how we would approach the project. They worked in the storage room and used a projector to place objects on the doors to help them visualize the painting." Travel or journey was the chosen theme and following 3 to 4 weeks of planning the students set out on a personal journey using abstract art and expressionism as the style.
Car doors as a canvas tested the abilities and patience of the eight students who worked on this project versus the traditional class mural. "The biggest difference was having to take longer to get the base coats painted" remembers Emily V. "I couldn't do the entirety of one chunk in a day. The paint wouldn't stick if I did more than 2 layers if the paint was even a little wet." Fellow artist Seth O. encountered other issues by taking his project a different direction, "Since the door looked like an older model I decided to scuff the paint with sandpaper to almost give the door a rustic look, contrasting from my futuristic style." When the paintings were completed, the artists were graded on concept, composition and technical aspects.
The Automobile Gallery is honored to display these one-of-a-kind student masterpieces in conjunction with Art Street in Green Bay August 24th-26th where these artists' creations will be featured among the artwork of 200 artists from across the country. We at The Automobile Gallery congratulate the art students of De Pere High School and we can't wait to see what comes through "the door" next!
[post_gallery]
---
De Pere Art Students
Seniors

Hannah McDonald
Maya Steele

Juniors

Kaitlyn Borseth
Seth Owens
Hope Carter
Summer Roe
Elizabeth Schimpf
Emily VonDerRuhr