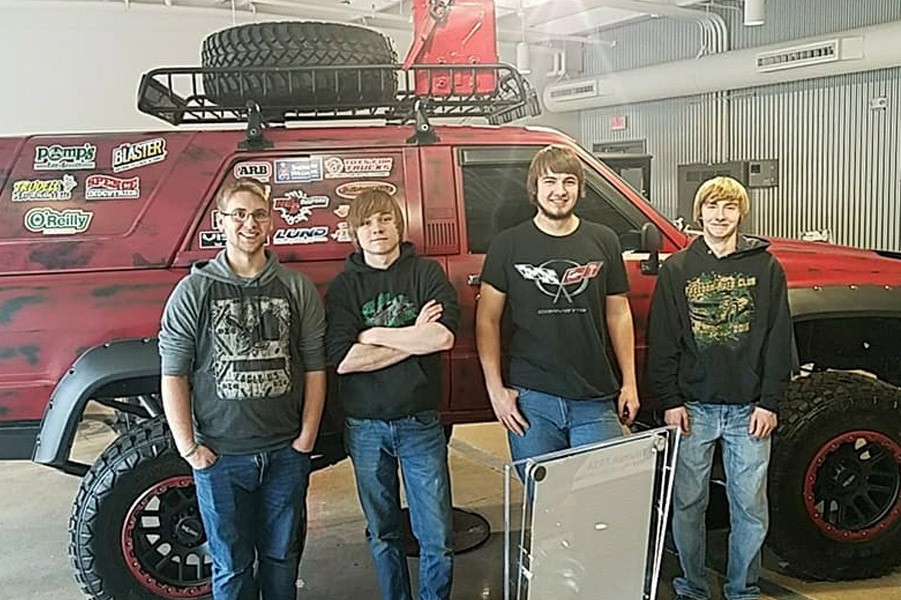 12 Mar
Freedom High School's SEMA Sensation
The SEMA (Specialty Equipment Market Association) Show in Las Vegas is widely considered the "top of the mountain" in the automotive world. To reach that summit the students at Freedom High School responded by building a mountain climbing monster for SEMA 2017 now on display for a limited time at The Automobile Gallery.
"Project Front Runner" began life as a 1985 Toyota 4Runner donated by Rick Paulick, the promoter of the NEW Motorama car show in Green Bay. It was Mr. Paulick's way of rewarding FHS' automotive students for volunteering at SEMA in past years. Led by Brian Vanderheiden, Timmy Vanveghel, Trevor Hintz, and Alex Garvey, the team went to work on the 4Runner with help from Automotive Instructor Jay Abitz and Mr. Paulick who secured $20,000 in support from local businesses and manufacturers.
As FHS' students prepared to debut their rock crawler extraordinaire on the world stage, student Brian Vanderheiden reflected on the monumental moment, "My first complete paint job is going to SEMA! That's pretty cool!". Cool quickly turned to red hot when FHS students caught the attention of world-renowned builders and artists at SEMA and soon they were working side by side with Rob Churchill and Ryan Evans from The History Channel's Counting Cars along with Cristy Lee from Velocity's All Girls Garage.
To fund future projects, Project Front Runner will be raffled off March 25th at The Resch Center in Green Bay with 100% of the raffle proceeds going to the Freedom High School automotive program. The Automobile Gallery is proud to support the students of Freedom High School and Project Front Runner.
[post_gallery]